FEATURED EVENTS

HOLIDAY CONCERT-BOMB SHELTER & IMPACT A JAZZMOBILE|SESSIONS CONCERT
December 7, 2022 @ 7:00 pm

-

8:30 pm

Free
ONE NIGHT – TWO GROUPS
Join Jazzmobile for an exciting evening as we celebrate the Holidays with a rousing program by two of Harlem's renown 'artivist' performing arts and culture groups.
LOOKING AT THE HOLIDAYS THROUGH THE VOICES OF … the Oscar nominated IMPACT Repertory Theatre and The Harlem Bomb Shelter. They will have you on your feet, as they present music, spoken word and dances inspired by this Magical Holiday Season
THE PROGRAM
IMPACT Repertory Theatre presents "A POLITICAL HOLIDAY"
"A YOUTH ARTIVIST PERSPECTIVE" Even in sadness, there's always MAGIC. Come journey with us as we explore the Holidays the IMPACT Way!
PERFORMING ON DECEMBER 7
Dietrice Bolden. JarrettParker Michelle Huart. Nichole Acy Jordan Ford Isler. Lelitza Ford Isler
Lukeus Isler. Sharai Isler. Ashley Isler. Alexis Isler. Ashlyn Isler Jaisha Wright. Alicia Hilare
Jarrius Bethea. Khadim Diop
The Harlem Bomb Shelter presents "COAL & SNOW"
The fiery Hopes through the frosty heartaches that make a 'Happy Holiday.' An anthology of poetry painting a portrait of family and the holidays.
PERFORMING ON DECEMBER 7
The Artist Anubis. The Artist Alexis Poetic Boy D. Elee James. Feyisayo. and more
ABOUT IMPACT REPERTORY THEATRE
For two decades, IMPACT Repertory Theatre has created a safe space for young people to grow and create as dancers, singers, actors, writers, poets, scholars, and leaders.
IMPACT alums have earned college degrees: bachelors, masters and doctorates; and Fulbright Scholarships.
From schools and homeless shelters; to The Apollo, Lincoln Center, The Kennendy Center, and the Kodak Theater – where they performed as Oscar nominees –IMPACT's message of S.O.S. (Safe Space, Outstanding Effort, and Service to our family, friends, and community) has changed lives and the world.
FOR INFORMATION ON IMPACT REPERTORY THEATER CLICK BELOW: www.impactreptheatre.org/
ABOUT THE BOMB SHELTER
THE HARLEM BOMB SHELTER, is a spoken-word cultural institution that produces open mic showcases, events, and other opportunities for entertainment, empowerment, and education through the arts.
Much like an actual bomb shelter, an escape and shield from war, explosions, nuclear fallout, and apocalypse, for 10 years, The Harlem Bomb Shelter has been (and still is) a relief from the war and fallout of our everyday lives: where those who make it, pool our resources, experiences, thoughts, and ideas in preparation to repair and rebuild "the real world."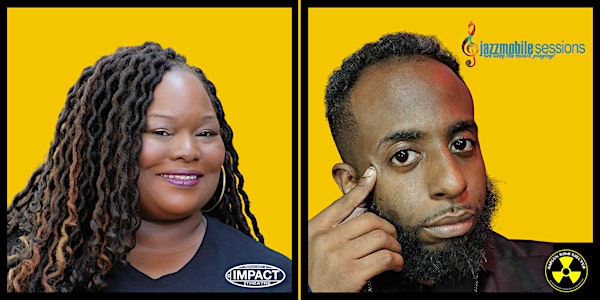 **Cited from https://www.eventbrite.com/e/free-holiday-concert-bomb-shelter-impact-a-jazzmobilesessions-concert-tickets-431671289447?aff=ebdssbdestsearch**