FEATURED EVENTS

Bockhaus Halloween Haunted Haus Opening Party
October 15, 2022 @ 4:00 pm

-

11:30 pm

$20 – $44
BROOKLYN, NY September 12th, 2022 — UNRULY Collective, LLC (UNRULY) and Harlem River Yacht Club (HRYC) are excited to present Bock Haus Haunted Haus, an art experience by trailblazing artist Ryan Bock. Opening at UNRULY Collective (200 Cooper Street) on October 15th running through October 31, 2022.
Bock's intention is to create a Haunted Haus experience subtly questioning bodily autonomy in the United States of America utilizing the ancient craft of puppetry. In collaboration, we will combine found objects, unused materials, and the love of creativity to bring a community event to Bushwick celebrating the Halloween season. The experience will include an outdoor mural and interactive puppetry. This will be a complete venue take-over. Two floors of sensory exposure will scare attendees.
You will be able to see, hear, touch, and even taste Bock's art as it takes you through the nightmares being faced by Americans today. This Haunted Haus will be based in fear but end in wonderment.
CONTACT:
Ohene Cornelius | Harlem River Yacht Club LLC | harlemriveryachtclub@gmail.com
Hillary Mégroz | UNRULY Collective LLC | Unrulycollective.com | unrulycollective@gmail.com
This event is open to the public and is for ALL AGES. Ryan Bock will be on site at all events.
Friday October 15th, 8PM-11PM: Opening event with artist Ryan Bock on hand to take pictures, meet press, and show the public how to interact with this haunted art experience. DJs, live music, drinks and refreshments.
Friday October 21st, 9PM-11PM: Smokes and Jokes Comedy Show featuring the spookiest and funniest comedians in NYC. Costumes encouraged.
Friday October 28th, 9PM-11PM: Black Movies for My White Friends screening of
Tales From The Hood featuring commentary by Ryan Bock.
Monday October 31st, 8PM-11PM: Closing Event and Halloween celebration, costumes required.
DJs, live music, drinks and refreshments.
Additionally, BockHaus Haunted Haus will be open at the following times:
Monday and Wednesday, 3PM-9PM (October 17, 19, 24, 26)
Saturday October 22 & October 29, 4PM-10PM
Events are led by Ohene Cornelius (Harlem River Yacht Club) and Hillary Mégroz (UNRULY Collective), notable NYC tastemakers, known for continuously sharing positive and peaceful community centric entertainment to New York City and across the country.
FOLLOW: @bockhaus @UnrulyCollective @HarlemRiverYachtClub
HARLEM RIVER YACHT CLUB: Harlem River Yacht Club is founded on the principle of providing the opportunity for diverse connections and networking geared toward African Americans and other usually marginalized groups that have recently financially liberated themselves. We serve the young upwardly mobile who lack in diversity when frequenting spaces geared toward exclusivity and fun. We create free spaces of education for youth by empowering our members to lead by example, inspiring a strong legacy program.
UNRULY COLLECTIVE: UNRULY Collective provides an accessible, imaginative environment promoting growth and collaboration across all artistic fields. Our events are inviting and inspiring, open to all walks of life to indulge in the creation and consumption of art with no judgment or restrictions. UNRULY strives to continuously create opportunities for artists and patrons to thrive, develop, and explore creativity through community and collaboration.
RYAN BOCK: Ryan Bock specializes in painting, drawing, puppetry, animation and experimental film methods.
Bock's practice is rooted in a need for narrative structure. Residing somewhere between mythology and nightmare, Bock depicts mise-en-scène riddled with symbology and allusions both cinematic and painterly. Maintaining a fascination for shape, shade, shadow, structure and optical illusion, Bock deconstructs his subject matter into often barely-recognizable delineations and structurally unsound repetitive patterns. In an attempt to confront the contemporary individual's relationship to mortality, fear and superstition, Bock depicts correlations between the human figure and its innovations: technology, architecture and religion—both historically and fictitiously. By consistently contrasting historical subjects with those of the present, and using the recurring patterns found to generate predictions about our future—a process he refers to as 'dusty futurism'—Bock propels his audience to reconsider the routine human experience and discloses the illusions implemented to keep them from questioning.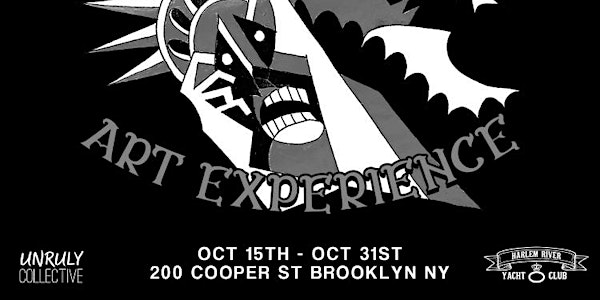 ** Cited from https://www.eventbrite.com/e/bockhaus-halloween-haunted-haus-opening-party-tickets-426256473587?aff=ebdssbdestsearch**